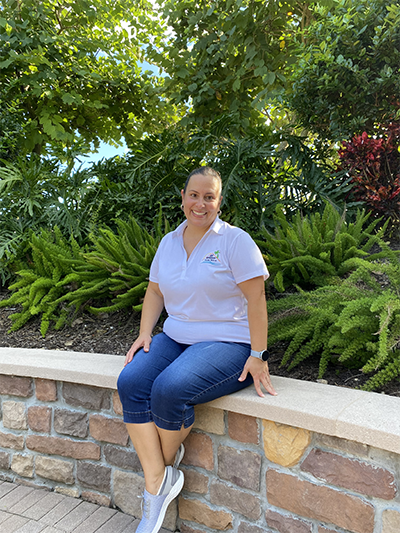 Denise Epperson
Owner of EZ Breezy Home Watch Services, LLC
Services Available
Home Watch – Complete property observation.
Auto Care
Handyman
Meet Contractors
Meet Renters
Prepare for departure and arrivals
Storm preparation and recovery
Concierge Services – other services upon request.
We also offer airport pick up and drop off.
My work background started in the medical field as a Cardiovascular Technologist where I worked for several local hospitals. This experience gave me a keen sense of detail and thoroughness, as well as an appreciation for customer service and quality feedback.
I am married to my husband Michael of 20 years who is a Collier County Deputy Sheriff and we have one son, Christopher and two Goldendoodles named Luna and Oso. We have owned in Reflection Lakes since 2010 and have been full time residents since June 1989.
Many of my clients ask 'What made you open a home watch business?' It makes me think of growing up on Marco Island in the 90's. Back then I don't think home watch was around by ways of businesses. I remember my dad a retiree/handyman helping out our seasonal neighbors with caring for their homes while they were away. Often times he would ask me to help him out. I learned at an early age how things can go down hill very quickly if not cared for properly. I thought to myself that owning a home was a lot of work and responsibility. Once married Michael and I became homeowners ourselves and learned how to stay on top of home maintenance and how to problem solve minor issues before they became major costly issues.
My medical career was a fast paced 24/7 on call whirlwind. Once my son was born in 2007 I cut back my hours to part time in order to be with my family. Years went by,I started to hear about Home Watch businesses…. it peaked by interest immensely. It brought great memories of my father and I working hand in hand. I began looking into opening my business and what training was required. I enlisted the help of the National Home Watch Association for guidance. They were an plethora of knowledge and experience. I became a Certified Home Watch Professional. My years of helping my father who was a perfectionist and meticulous man helped be acheive my goal of being a small business woman that strives to provide the best customer service to the community I have grown up in and have loved since June 1989.
EZ Breezy Home Watch Services LLC is independently owned and operated. I am insured, bonded, and take part in continuous training.
Certified Home Watch Professional
Denise Epperson, owner of EZ Breezy Home Watch, has earned the designation of "Certified Home Watch Professional" through the National Home Watch Association (NHWA). Certification is achieved through the completion of a training curriculum and examination based on the NHWA's Best Practices and input from leading Home Watch business owners throughout the United States and Canada. Certification lets the public know of a Home Watch professional's commitment to excellence, by upholding the very highest of standards in the Home Watch industry.
I specialize in the following communities:
Reflection Lakes, Naples Reserve, Fiddlers Creek, Lely Resort, Winding Cypress, Eagle Creek, Falling Waters, Verona Walk, Artesia and Marco Island. I will also serve other nearby East Naples communities upon request.